The Ike Foundation® College Scholarship Program Accepting Applicants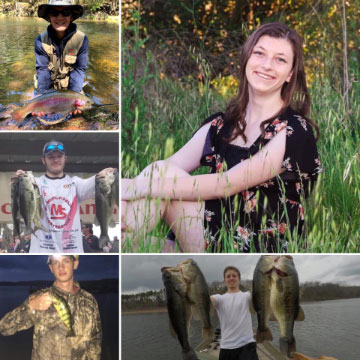 February 28, 2023-Mike Iaconelli and The Ike Foundation® are accepting applications for their college scholarship program. To date, The Ike Foundation® has awarded over $85,000 in college scholarships to qualifying high school students from across the country. These students have been involved in fishing or demonstrated outdoor volunteerism and/or conservation activities. They have gone on to pursue degrees ranging from Biology, Environmental Science and Computer Engineering to Photography and Business Management. Details and application link for The Ike Foundation® College Scholarship Program are below:
To be considered for a scholarship award, students must meet the following criteria:
Enrolled as a high school senior
A U.S. citizen or eligible non-citizen
Plan to enroll in a two or four-year college or university as a full time, degree-seeking student
Demonstrate volunteer commitment of time to support the community, preferably fishing/conservation-related
Have a minimum GPA of 3.2 (current transcript required)
Submit at least one letter of recommendation from a current teacher, coach or administrator
Show written acceptance from your selected college or university
Submit five paragraph essay based on our topic listed below
Complete and submit all application materials postmarked or submitted online before April 1, 2023
Essay Topic
Similar skills can be used in the classroom and fishing on the water to overcome challenges, hardships or adversity. In a standard five paragraph essay format, give examples of these skills and how you applied them both in the classroom, on the water and ultimately how they will help as you head off to college and out into the world.
Scholarship winners will be announced by May 15th, 2023.
The Ike Foundation® is a charity created by Mike and Becky Iaconelli to support kids fishing endeavors and experiences in the outdoors. Follow The Ike Foundation on Facebook @theikefoundation, Instagram @theikefoundation & Twitter @foundationike
The Ike Foundation® appreciates the generous donations from individuals and sponsors, including Toyota, Abu Garcia, Bass Cat Boats, Hobie, Yamaha, Flambeau, AFTCO, Pro-Guide, Rapala, Tackle Warehouse, Gumout and many more. A full list of sponsors is found at https://theikefoundation.org/sponsors/
Founded in 2014 by professional bass angler Michael Iaconelli and his wife Becky, the mission of The Ike Foundation® is to get more kids fishing and in the outdoors, especially youth in areas where those activities are not readily available. We support youth fishing clubs, civic groups and charitable organizations that promote the sport of fishing, the ecology of the outdoors and the responsibility each person has to maintain our planet's natural resources. The Ike Foundation® is approved by the IRS as a 501©(3) tax-exempt organization, and all donations are tax deductible to the extent provided by law. The Ike Foundation® is a non-profit organization and all proceeds from events go to The Ike Foundation®'s mission. Tax-deductible contributions are welcome and can be made on our website. Donate to The Ike Foundation®.
2023-03-01 10:44:52