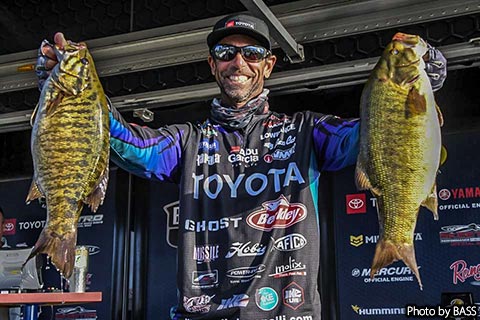 Mike "Ike" Iaconelli
Mike 'Ike' Iaconelli, southern New Jersey native, is a fan-favorite professional angler of more than 20 years. In 2022, Iaconelli returned to the Bassmaster Elite Series after competing most recently on the Major League Fishing Bass Pro Tour. He is the only angler to ever win the Bassmaster Classic, Bassmaster Angler of the Year, and the B.A.S.S. Federation Nation Championship. Mike enjoyed an active streak of 19 consecutive Bassmaster Classic appearances. In addition to competing at the top level of professional bass fishing, Mike is driven to grow the sport of fishing with his own entertainment, education, and charitable organizations: The Bass University, Ike Live Podcast, "Going Ike" YouTube Series, "Ike in the Shop" YouTube Series, and The Ike Foundation®. Iaconelli is host of the television show, 'City Limits' on the Pursuit Channel, 'Fish My City with Mike Iaconelli' on NatGeo Wild, and "'My World' with Mike Iaconelli" on CBS Sports Network.
Mike Iaconelli's professional bass fishing career has been marked by both success and innovation, and he has established himself as one of the most accomplished, recognizable and respected figures in the sportfishing world.
Mike and his wife, Becky, have four children. Drew, Rylie, Vegas and Estella. He enjoys traveling, camping, hiking and collecting old ink bottles.
Mike Iaconelli Career Highlights
2021 Bassmaster National Kayak Upper Chesapeake Champion
2019 Soner Euro Cup Champion
2019 James River BASS Open Champion
2017 & 2019 MLF Summit Cup Champion
2014 Delaware River BASS Elite Series Champion
2013 Lake Erie BASS Northern Open Champion
2008 Stren Series Northern Division Points Champion
2008 Winner Kerr Lake Stren Series Northern Division
2006 Bass Angler of the Year
2006 Winner BASS Southern Challenge
2005 Winner FLW Chevy Open
2003 Bassmaster Classic Champion
2002 Winner Georgia Tour
1999 Winner Vermont Top 150
1999 Wrangler Angler
1998 Winner BFL Champlain
1998 NJ B.A.S.S. Federation Mr. Bass
1997 Redman Points Champion
1994 Winner NC Top 100 Amatuer Division