The Ike Foundation® at the Bassmaster Classic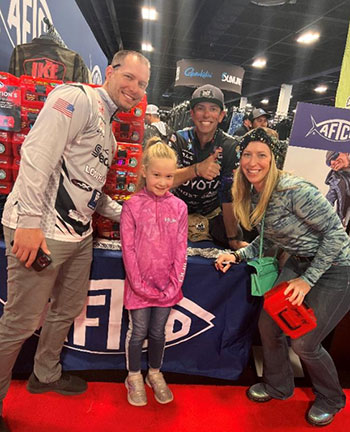 Pittsgrove NJ, March 10, 2022. The Ike Foundation® attended the Bassmaster Classic this past weekend in Greenville, SC. Attendance was record setting with almost 155,000 people enjoying the Outdoor Expo. Many children joined their parents to walk the halls of the Greenville Convention Center, scooping up fishing items; rods, reels, tackle, etc. but most importantly to spot a Bassmaster Elite series Pro. As Jason Christie was fishing Lake Hartwell and securing his place in history as a Bassmaster Classic Champion, Mike Iaconelli and The Ike Foundation® were engaging with over 500 kids throughout the three-day weekend.
Flambeau and The Ike Foundation® have a long-standing tradition of handing out Ike Flambeau Kids tackle boxes to kids at the Classic. The Ike Foundation® partnered with AFTCO and BassCat to host the tackle box giveaway. 500 kids walked away with stickers, signed swag, and a signed Mike Iaconelli tacklebox. The hope is always that the experience of meeting a professional angler and receiving that first tackle box sparks an interest in the kids to get outdoors and go fishing.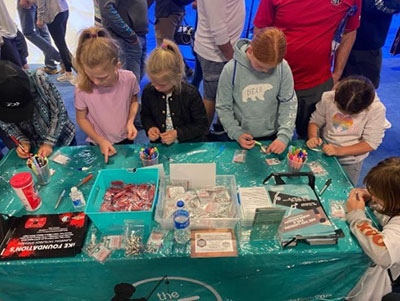 In addition to the tackle box giveaway, The Ike Foundation® had a booth where kids of all ages were invited to paint a Berkley bait. Hundreds of kids were able to design and paint a bait that they can then use next time they go fishing. That didn't take long for one boy. An appreciative grandparent says, "Thank you so much for this booth at the Bassmaster. My grandson, who is a month short of 6 years old, attended with us and took his time designing his lure on Friday. On Saturday, we took him out to fish Lake Norman and he caught his first bass. He may be hooked thanks to this booth. He loves art too so he got to design and fish." "That young boy's experience is exactly why we do what we do!" says Iaconelli.
ABOUT THE IKE FOUNDATION®
The Ike Foundation® is a charity created by Mike and Becky Iaconelli to support kids fishing endeavors and experiences in the outdoors. Follow The Ike Foundation on Facebook @theikefoundation, Instagram @theikefoundation & Twitter @foundationike
THE IKE FOUNDATION® SPONSORS
Sponsors of The Ike Foundation® include AFTCO, Toyota, BassCat, Yamaha, Flambeau, Abu Garcia. Please see the full list of Ike Foundation Supporters at https://theikefoundation.org/sponsors/
SPONSORSHIP OPPORTUNITIES
Sponsorship opportunities with The Ike Foundation® and Professional Edge Fishing, Inc. anglers and companies should be directed to Charles Daugherty at .
ABOUT MIKE IACONELLI
Visit Mike Iaconelli's website, or follow him on Facebook, Twitter & Instagram.
2022-03-10 16:06:17