Iaconelli and Gerber Gear Make for a Sharp New Partnership
Pittsgrove, NJ, November 6, 2018. Professional Edge Fishing, Inc. has announced a partnership between Bassmaster Elite Series angler and host of the Nat Geo WILD series Fish My City, Mike Iaconelli and Gerber Gear, makers of rugged, problem-solving tools.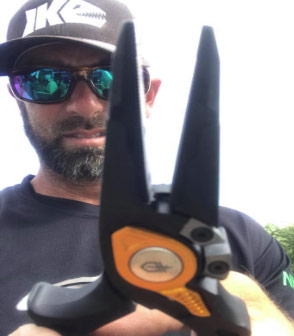 Iaconelli joins the formidable Gerber Gear team of Badassadors that includes other boundary pushing outdoor adventurers. Appropriately named, a Badassador is an outdoorsman or woman "doing whatever it takes, even if that's everything you got; finding out you have more inside than you thought; out there in the woods and swamp and sea, in it; the act of being Unstoppable." This description defines Iaconelli who hasn't paused in an adrenaline driven fishing career spanning over 20 years. He is the only angler to have won the Bassmaster Classic, Angler of the Year and B.A.S.S. Nation Championship. He is host of the webcast Ike LIVE, co-owner of The Bass University and most recently, star of Fish My City with Mike Iaconelli on Nat Geo WILD. But at the core of it all, Iaconelli is a passionate fisherman who has traveled the globe for over 100 species of fish. Iaconelli has fished in lakes, ponds, and oceans as well as canals and sewer drains in urban cities. The latter is explored in the new Nat Geo WILD series airing Fridays at 10pm EST/9 CT.
Iaconelli says of his new partnership with Gerber, "I've always been a big believer in having the right tools for the job and Gerber products are that in every way. They're rugged, powerful yet lightweight and easy for me to take with me on every fishing adventure. Their rock-solid construction and ergonomic design make them near indestructible, and I'm tough on my tools and my equipment! I love the Magnipliers and the Neatfreak…the entire Fish Beyond line is awesome!"
"Mike is not only an accomplished angler, he's an adventurer that exemplifies the Unstoppable spirit and represents the ambition and courage the Gerber brand stands for", says Andrew Gritzbaugh, General Manager of Gerber. "The new Gerber Fishing collection is designed specifically for the experienced, expeditionary-minded angler, and we know Mike can prove these problem-solving tools in some of the most unique and challenging environments. We're very excited to welcome him to the team."
ABOUT GERBER GEAR
Gerber is a leading global supplier of activity specific knives, multi-tools and problem-solving gear. Built on the pillars of craftsmanship, innovation, and an unrelenting commitment to quality and service to others, the trusted brand features a diverse portfolio of equipment for recreational and professional end users.
Visit
Gerber Knives, Multi-Tools, Cutting Tools & Equipment
, or follow them on
Facebook
,
Twitter
&
Instagram
.
ABOUT PROFESSIONAL EDGE FISHING:
Professional Edge Fishing, Inc. is a New Jersey based, full-service brand and angler management, representation, and marketing company specializing in the outdoor sportfishing market. Professional Edge Fishing represents several of the top professional anglers in the fishing world, which include Michael Iaconelli, John Crews, Ish Monroe, and Cliff Crochet. Professional Edge Fishing also works with many product manufacturers by developing custom marketing campaigns designed to connect these companies directly with millions of grass roots fishing enthusiasts around the globe.
For more information visit
Professional Edge Fishing
2018-11-13 10:06:29