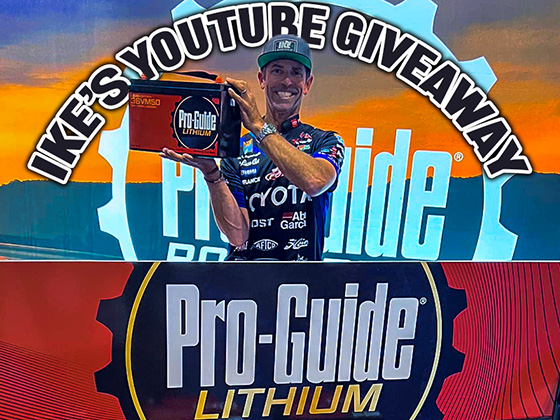 Ike's Pro-Guide Lithium Giveaway
Folks at home, this may be our biggest giveaway EVER! With one hand, I can hold up the 33lb 36V/50AH/1920WH Pro-Guide Lithium battery. Don't try holding up 3 deep cycle lead acid batteries that way, you'll rip out your rotator cuff. This $1300 MSRP battery will save space and weight in your boat or RV. Rated beyond 3000 charges @ 80% DOD, this battery will also provide worry-free operation for years. To ensure optimum charging and long battery life, Pro-Guide will also provide a NOCO genius charger. To sweeten the deal further, I'm also including a signed tournament jersey!
Starts November 23rd, 2022
Winner Announced November 30th, 2022
STEP 1
Enter Your Name and Email Address
---
* Entering your email address will subscribe you to the Mike Iaconelli newsletter and you consent that we may share the collected information with the above-named giveaway prize provider(s). By entering an email address, you certify that you are the owner of the email address and authorized to access it to send & receive emails. Only 1 entry per email, additional entries will be disregarded. If you wish to discontinue receiving newsletters at any time, please use the unsubscribe link provided at the bottom of each email newsletter.